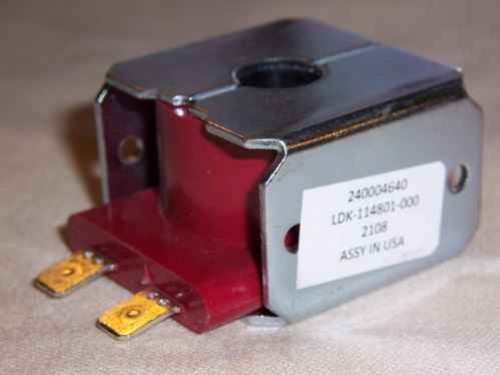 LDK-11 Ranco LDK-110000-070 Heat Pump Solenoid Coil, 24V
FREE SHIPPING
$

39.99
InStock
If you need this shipped overnight search our store for EXPRESS and add it to your order.
SKU

OP1126
New Ldk-11 Heat Pump Solenoid Coil Reversing Valve 24 V includes a new wire and connector. In stock ready to ship FROM MISSOURI (We're half way to everywhere!) Type ldk solenoid coils are designed for use with current production generation 4 v0, v1, v2, v3, v6, v10 and v12 ranco heat pump reversing valves. These color-coded, encapsulated, continuous duty, moisture resistant electro-magnetic coils are designed to operate the pilot valve that controls these reversing valves. Included with the solenoid coil is a w29 wiring harness with 48 leads.
The hole in this coil assembly that slips over the reversing valve is 0.4545" in diameter - tad less then 1/2" and it is 0.95" deep. Small hole is 0.2115" in diameter. overall metal part is 1" thick, 1.5" wide and 1.4" long.
If you need one of these shipped USPS express next day to most places please add to your cart "Priority mail express shipping" BY clicking here